The Thesalian Plain and The Pinios River
The Thessalian Plain
Thessalian Plain Passing by Mateor it is worth to stop for a moment in a pretty and charming place, which is the Thessalian Plain. Flat lowland surrounded like the giant bowl by mountain ranges. On the south – Othirs, on the north – Olimp and Antichassia, and on the east – Ossa and Pelion.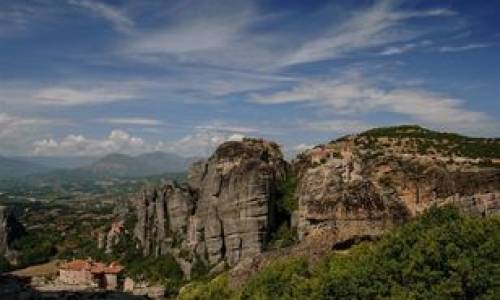 What is interesting, on north-west end of the plain, which is bounded by mountains Antichassia and Pindos (on the north from city – Kalambaka), from the bottom of the valley we can notice stone forest, made of over a thousand extraordinary rocks . Conical poles made of gray sandstones are overgrown by poor greenery and are reaching up to 400 m of height from the base. This not completely geologically explainable phenomenon is definitely one of the wonders of nature on our planet.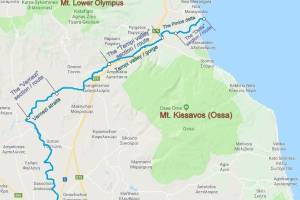 The Pineios is a river in Thessaly, Greece. The river is named after the god Peneus. During the later Middle Ages, it was also known as the Salamvrias or Salavrias. In Greek mythology, Peneus was a Thessalian river god, one of the three thousand Rivers, a child of Oceanus and Tethys
It flows from the Pindus mountains through the Thessalian plain and empties into the Aegean Sea, northeast of the Vale of Tempe, near Stomio. It creates a large delta, well known for its beauty and for many animal species, protected by international environmental treaties. Its total length is 205 km. Its drainage basin is 9,500 km2 . Its source is near the village Malakasi, on the eastern slope of the Pindus main range, east of Metsovo. The Meteora region and the city of Larissa lie along the Pineios. Trikala lies on its tributary, the Lithaios.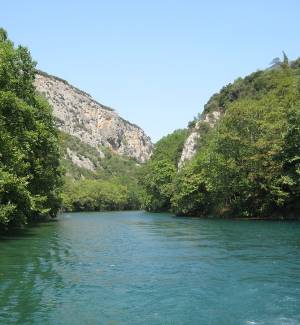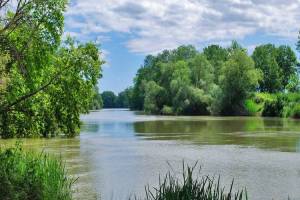 Homer called it "argyrodinis", which means "a river with silver curls," trying to describe its sinuous beauty. According to the myth, the river was formed by the tears shed by the mountains of Pindos and Lygkos that mourned the lost love – it was the place of residence chosen by the Nymphs.